As a manager, you play an important role in ensuring a healthy and safe working environment for your employees. This is achieved through your engagement and commitment. At Human House, we have developed a manager self assessment tool that helps you evaluate your own efforts and tasks within OSH. Let me explain the premise of the tool and why it could be beneficial for you.
We all know that safety rules and procedures are meant to be followed so we can do our job without accidents or illness. Yet, accidents do happen. Why? As a manager, you play a crucial role, and your engagement and commitment within OSH have a significant impact on the safety, health, and wellbeing of your employees.
Indorsement from management can be a major showstopper in creating a good work environment, and it often stems from a lack of knowledge about the manager's role within OSH. To provide you with insights into what you can do to achieve a top-notch working environment, we have developed our Management Self Assessment Tool based on official Vision Zero guidelines.
The tool itself aligns with Vision Zero's golden rule number 1, "Take Leadership and Demonstrate Commitment," as well as number 7, "Invest in People and Motivate," as it encourages you to act as a role model, both in words and actions, setting a good example, and embodying the values and behaviours you want to see from your employees. What you do, tolerate, and expect set the standard for your employees, and through engagement and commitment, you create an environment where it is accepted to open up and share one's thoughts and concerns regarding the working environment. After all, your employees are the experts, so naturally, they should be involved in the process.
When you are visible to your employees in the tasks related to OSH, you show that you care about their safety, health, and wellbeing, inspiring them to do the same. This contributes to creating a culture where safety, health, and wellbeing are central, and the result is shown positively both by the numbers of accidents, productivity, employee retention, and ultimately the success and growth of the organisation.
Let's take a closer look at the tool.
How the Self Assessment Tool works
The use of the tool should be seen as part of the journey towards a higher level of prevention, and the assessment process could for instance look like this: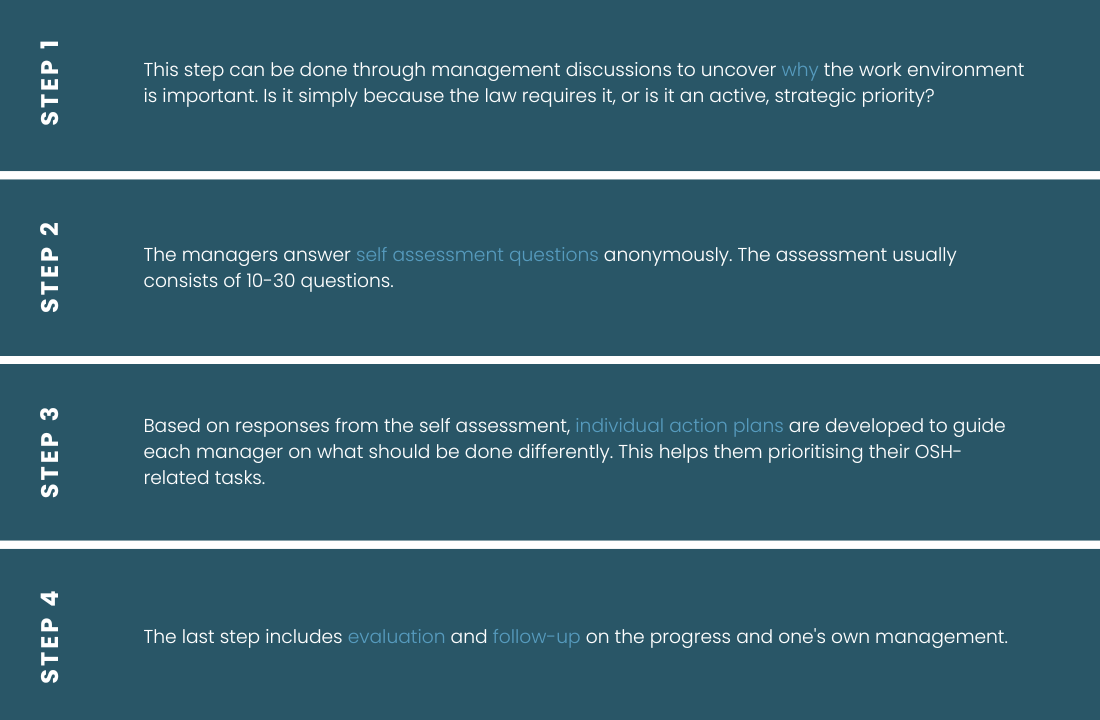 The assessment questions and statements are built around three main categories: 1) Management Focus, which makes managers aware about their own current priorities within OSH, 2) Management Tasks, which focuses on the managers' responsibilities, and 3) Employee Focus, which addresses the focus of employees.
The process can be tailored to your specific needs and can also be incorporated into your Workplace Risk Assessment. A statement could, for example, be: "I show both in words and actions, that safety is a high priority for me."
There is no doubt that people are different and have varying perspectives on safety, health, and wellbeing. However, as a manager it is your responsibility to take special care of those who need it.
At Human House, we have extensive experience in assisting managers in their work within OSH. Please reach out to me or one of my colleagues if you would like to learn more about the tool and your options.